Hard Goodbyes - Big Duet Surprise -
Blessings Realized - Christmas Concerts Advertised
 
The past few months have been exciting, overwhelming, sad, and blessed. I've been excited about this record, overwhelmed at my extra responsibilities at work since my husband has had to take sick leave for a few months in order to heal from a neurological disorder (worried about my husband), sad that we lost our dog Bandit a couple of weeks ago to cancer and so blessed to be surrounded by many people who love and support us each day. I am doing my best to be prayerful, positive and hopeful. I fail at this sometimes, but I'm doing my best to have that hope and assurance that God is always with us and helping us through it. I have this verse taped to the top of my computer and I read it every day. 
"The LORD himself goes before you and will be with you; 
He will never leave you nor forsake you. 
Do not be afraid; do not be discouraged." 
Deuteronomy 31:8 
Remembering Bandit 
Bandit (our pup that we rescued last December at 9 yrs old) died from cancer on October 4th, the Feast day of St. Francis (Patron Saint of Animals). We miss him so much and it feels really empty around the house again. It was a hard loss because we became so attached to him in a very short time. He was such a precious goofball that brought us so much joy and we are so blessed to have been able give him a spectacular finish (spoiling him like crazy since he had a hard life before he came to us). We miss him but we believe that in some way Bandit's spirit or energy will lead us to our next Boxer.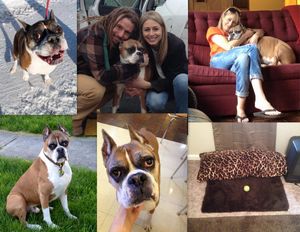 Until then we have placed a dog bed and tennis ball in the
living room as a reminder of what was and what is yet to come.


Christmas Project – O Come All Ye Faithful Sneak Peek. 
We are almost finished with the project. It goes to Mastering and printing next week! Yay! 
Here is a Full Video of the song O Come All Ye Faithful. 
I would love it if you'd help me spread the word and share this video with friends. 

ONE MORE SURPRISE ON THE RECORD! 
I am blessed that Vince Gill sang a duet on The First Noel medley. God has richly blessed this project and I can't wait for you to hear the whole thing. I had the wonderful opportunity of meeting Vince and Amy at their concert in Sun Valley in August. Here's a pic of me and my mom with them both that night. What an incredible show. Go see them if you get the chance! They are awesome!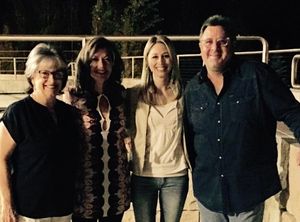 Pre-Order Price is Available for a little while longer 
Click HERE http://jtmusic.com/pre-sale-for-christmas-project  to pre-order for $12 (reg. 15.99) 
 
Prayer Needed 
Prayer warriors if you could please keep my husband's health in your prayers. The jaw issues that have been causing the Trigeminal Neuralgia he's been dealing with isn't healing as quickly as Dr.'s had hoped. I ask for prayers for healing and for Pete to get some peace. Also, pray for peace for me as well. It's not easy to sit here and feel so helpless while watching my husband suffer. 

Christmas Concert Schedule 2016 
Because I am working full-time to get my husband through school and am working extra hours while he's been on medical leave, I am not able to travel as much as I'd liked this Christmas. Next year I plan to do a lot more travelling so if you want me to share this new Christmas music in your town, shoot me a note on my website and I'll see about getting you on the tour schedule for Christmas 2017. http://www.jtmusic.com/contact 

2016 Christmas Concert Schedule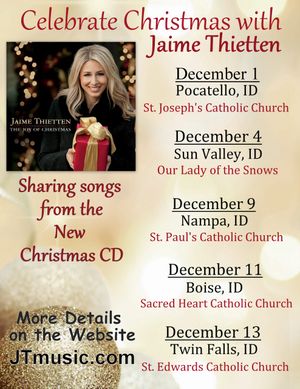 If you live nearby, I'd LOVE to see you there! 
 
Thank You 
Thank you for your continued support of this ministry. Great things are happening! And it is so exciting to look back and see how God's hand has been guiding us and opening doors. I will send another update soon, once the record is officially released. 
Blessings to you and Happy November, 
Jaime