Hi Friends, 
I wanted to give you an update on Pete's health. We are so grateful for all of your thoughts and prayers over the past year and a half. Keep them coming. Your prayers are working! God is so good! 
Medical Update on Pete 
Prayers are being answered! Thank you! We've seen several new specialists the past couple of months and things seem to be headed in a more positive direction. He has an amazing new jaw doctor in Boise (which is closer than Salt Lake yay!). There is a much clearer path to treatment and Pete is even talking about possibly starting a part-time job January of 2018 (we aren't sure if that will happen yet, but it is SO good to see him in such a positive mood looking ahead with excitement). 
Pete said in a FB post… "the light at the end of the tunnel is no longer a freight train". 
I laughed at that but then had to realize that we both have been in a place where we really thought "this is it"… that he would have to deal with this ongoing pain and that it was incurable (short of a miracle which we were definitely holding out for). But great news from several Doc's who have given us other things to try which seem to be helping. God is GREAT! 
This picture was taken at the Coral Pink Sand Dunes State Park in Kanab UT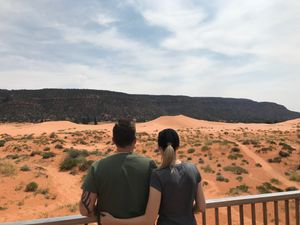 Pete and I had a couple of hours after his appointment with the Specialist in St. George last month for my dad to show us around. 
We feel so blessed to have been able to drive through Zion National Park while we were in St. George. My dad gave us a wonderful tour. Pete kind of overdid that day, but it was good to get him out and about enjoying the beautiful scenery. We are looking forward to getting him all healed up so that he can do more stuff like this.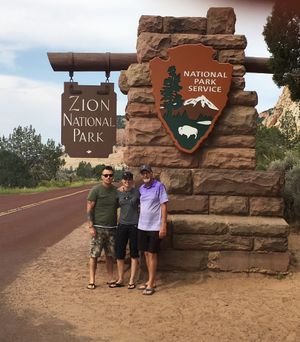 Pete Passed His Licensing Test! 
On Wednesday October 25th, Pete traveled to Boise Idaho to take his Licensing test to complete his Masters in Social Work. He started this process Fall of 2013 and was able to complete the program through Utah State University this past August. The medical struggles have made continuing school very tough. Thanks to your continued prayers and encouragement, he is finished and looking forward to getting back to work when he gets better. I am SO PROUD of this man and so blessed to be his wife. Looking back on all of this, my faith in the power of prayer have increased and I know that God is faithful. He is "my refuge and my fortress" and I will continue to trust His plan. 
I will leave you with a verse from the Bible that Pete has leaned on during his time of suffering this past year and a half. If you are going through hard times, I hope this helps you and gives you peace. 
Psalm 91 
He who dwells in the shelter of the Most High 
Will abide in the shadow of the Almighty. 
2 I will say to the Lord, "My refuge and my fortress, 
My God, in whom I trust!" 
3 For it is He who delivers you from the snare of the trapper 
And from the deadly pestilence. 
4 He will cover you with His pinions, 
And under His wings you may seek refuge; 
His faithfulness is a shield and bulwark. 
5 You will not be afraid of the terror by night, 
Or of the arrow that flies by day; 
6 Of the pestilence that stalks in darkness, 
Or of the destruction that lays waste at noon. 
7 A thousand may fall at your side 
And ten thousand at your right hand, 
But it shall not approach you. 
8 You will only look on with your eyes 
And see the recompense of the wicked. 
9 For you have made the Lord, my refuge, 
Even the Most High, your dwelling place. 
10 No evil will befall you, 
Nor will any plague come near your tent. 
11 For He will give His angels charge concerning you, 
To guard you in all your ways. 
12 They will bear you up in their hands, 
That you do not strike your foot against a stone. 
13 You will tread upon the lion and cobra, 
The young lion and the serpent you will trample down. 
14 "Because he has loved Me, therefore I will deliver him; 
I will set him securely on high, because he has known My name. 
15 "He will call upon Me, and I will answer him; 
I will be with him in trouble; 
I will rescue him and honor him. 
16 "With a long life I will satisfy him 
And let him see My salvation." 
Blessings to you! 
Jaime