Hello friends. 
I hope your summer is off to a great start.  We are enjoying such beautiful weather here in Idaho and I've been walking the canyon grade again. Whew! It always amazes me how much better I feel when I'm exercising and spending time getting some fresh air. Great way to start the day! 
Then it's down to the basement to work (making calls and sending emails to book the tour calendar and taking care of the fun office details of the ministry). I'm really not complaining. I love what I do. Even though Pete does call me the "basement troll" every now and again. lol.  
CELEBRATING FAMILY  
We have a lot to celebrate this summer.  
Happy Birthday to my husband Pete! Pete turned 44 on June 4th, but we are celebrating much more than his birthday. He doing so much better and able to work 25 hours per week doing what he loves! He's an awesome social worker and loves helping others. We Praise God for the continued healing in Pete's body. He still has some hurdles, but we are so happy for what he is able to do now and how far he has come from just last August. God is so good. Thank you for your prayers.  
I snuck a picture of Pete at the Doctors office 2 weeks ago. He looks AMAZING!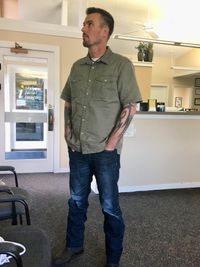 Last month we celebrated Mother's Day. My mom is amazing. Last year she opened her home to us when Pete got so sick and couldn't work. She has allowed us to stay here until we can get back on our feet again financially and I cannot tell you what a HUGE blessing this has been. Thank you Mom for always being there for us. We love you!  
This month we celebrate Father's Day.  I love my dad! He has always been there for us as well. In fact, it was because of my dad telling us to come down to St. George to see the specialist there that Pete was properly diagnosed and is doing so well. Thank you DAD!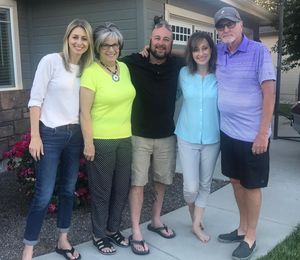 And last, but not least, two weekends ago we celebrated my nephew's baptism. My sister's oldest son made the decision to follow Christ and be baptized. He wanted it to be at a lake so a small group of us gathered near the shore and watched Tanner be baptized. For those of you who don't know, it was watching Tanner be born (17 years ago this month) that changed my views from Pro-Choice to Pro-Life.    
My journey for being a voice for the unborn began at that moment.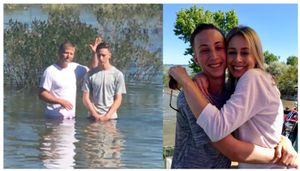 I'm so grateful God used Tanner to speak to me and I couldn't be happier that he has chosen to follow and serve Jesus.  
Family is so important. I do my best not to take them for granted because family and friends are a precious gift from God.  
NEW MUSIC COMING SOON  
I have some new music recordings in the works. The plan is to get 2 songs finished and released as singles by September. Very excited to get back in the studio and start creating again! I will keep you posted as things progress.  
TOUR NEWS  
I'm heading to…  
KANSAS for National Right to Life Convention the end of June  
IOWA for a week in July with the other Carrick Ministries artists  
TEXAS in August.  
WISCONSIN in October 
Check out my website calendar for more details.  www.jtmusic.com/calendar. If you live close, I would love to see you there.  
Blessings and enjoy your summer! I will reach out again next month.  
Jaime