I hope you are enjoying the New Year.  IDAHO IS COVERED IN SNOW!  We've had several storms pound through leaving over a foot of snow and drifts up to 3 feet in places where I live. I definitely got my exercise the past few weeks as I've shoveled not only my driveway and sidewalks, but the ones at work as well. 


I know not everyone likes the snow (especially that much at one time), but I've always found it to be very peaceful. As the blanket of snow covers the roads, it seems to mute the sounds and make everything more quiet and peaceful (with the exception of the occasional road plow going by). Plus, I love to ski! So lately, I've spent some peaceful time on top of mountains looking over the beautiful valley's. 
CHRISTMAS CONCERT RECAP
What a blast! December was so much fun as I traveled around Idaho to do 6 Christmas/Advent concerts. I loved sharing music from my New Christmas CD. We worked so hard the last 6 months and it was a joy to bring the new music to my home state of Idaho. 
These concerts gave me that shot in the arm and made me realize how much I have missed being out traveling and sharing music on a regular basis. But I have to say this past couple of years it has been a blessing being able to come off the road and work a 9-5er to support my husband as he finishes up his master's degree. I'm so proud of him. It also has allowed me to be able to be here with him during the medical battles he's been facing. God knew I needed to be off the road during this time and He continues to guide the way. I am so thankful for that. Thank you for keeping Pete in your prayers. I don't know where we'd be without them.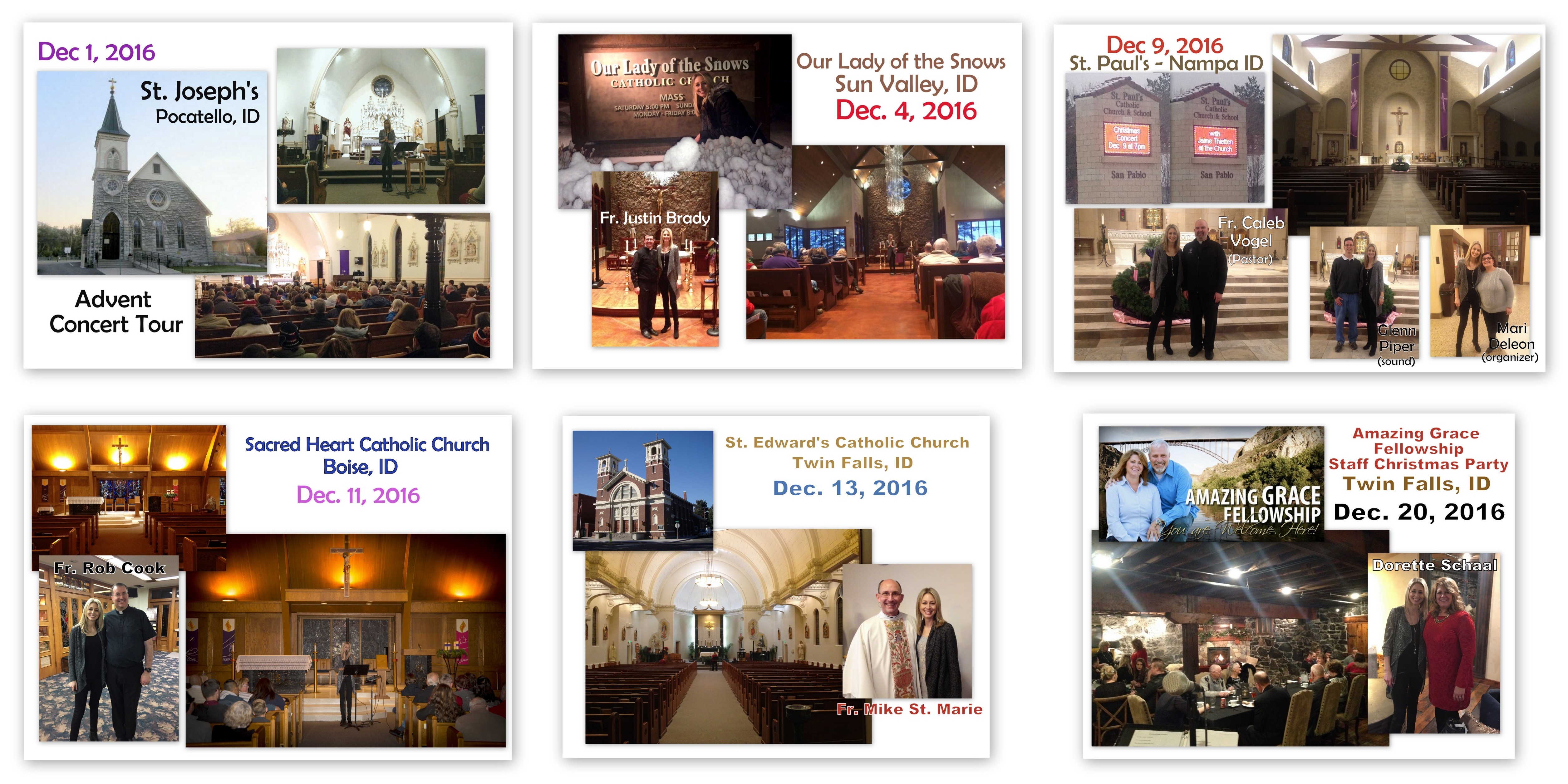 A HUGE "THANK YOU" to the churches who brought me in to share. 
Stay tuned
More news to come. Have a blessed month and thank you for your continued support of this ministry. 
Jaime 
 
P.S. Since January is designated as "Sanctity of Human Life month", I wanted to share my pro-life song and video recorded back in 2008. (See in column to the right) "My Chance". 
My prayer is that this song will continue to heal hearts, save lives and help people to realize that all lives matter.